This page includes information on applicants Rino, Maachan, and Gucchi. These were the second three applicants shown during the initial SHOWROOM with Mori Saki and Saho Akari.
Applicant Number 29, Rino (りの)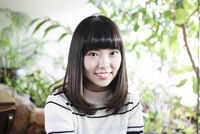 Twitter:
https://twitter.com/rino_seriyama
Information: Seriyama Rino is from Tokyo. The special talent she demonstrated during her audition was speaking English. She has studied English for many years and has lived in the United States for a period of time. Her goal upon passing the auditions would be to spread Up Up Girls around the world. Her audition song was "Uppercut". For a short time, she was a member of now defunct idol group Anchor Lady.
Applicant Number 30, Maachan (まーちゃん) Successful
Twitter:
https://twitter.com/uug2_mayu
Information: Yoshikawa Mayu is from Akita Prefecture in the Tohoku region of Japan. The special skill she demonstrated wasduring auditions was saying tongue twister/phrases in rhythm (rapping tongue twisters) . Her audition song was "Jumper" to which she also performed the choreography.
Applicant Number 37, Gucchi (ぐっちー)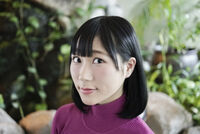 Twitter:
https://twitter.com/uug_p_hinano
Information: Hinano, or Gucchi, was born February 21st, 1998. She enjoys all types of anime and manga and practices judo. Although she was going to demonstrate judo, she wanted to do something to make people laugh. The special skill she decided to demonstrate was her impersonation of Sunshine Ikezaki combined with her own character, titled "Sunshine Gucchi". Her audition song was "Itadaki wo Mezase".
Note, Gucchi was unsuccessful during the UUG(2) auditions, but successfully passed the UUG(PW) auditions held later the same year. She is now a part of Up Up Girls (Pro-Wresting) and Tokyo Joshi Pro-Wrestling.[1]
Information Sources
All initial information was either from videos during auditions or through the applicant's SHOWROOM. Some have continued through as successful applicants and others have personal twitters.